Research Participation: Frequently Asked Questions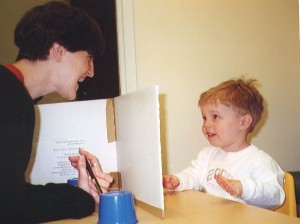 Our lab is always looking for children and teens to participate in research studies! Please review the information below, if you think you may want to participate in a study. Call us  at (860) 486-0195 for more information or fill out the form at the bottom.
What happens when I visit the lab?
In addition to standardized language and cognitive assessment, much of our research involves simple object or computer games. For children, this means pressing buttons on a keyboard or touch screen computer; it might involve watching pictures on a screen, playing with objects, or listening to sounds.
Other studies measure brain activity while children play computer games. This can be done using the non-invasive, non-harmful techniques of eyetracking, electroencephalography (EEG) and magnetic resonance imaging (MRI).
Where is the lab?
We are in the Department of Psychology at the University of Connecticut in Storrs. There is free parking right next to the building. Click here to see directions on-line. 
How long does a visit usually last?
The time commitment involved in participating depends on the specific study. However, most projects involve one or two visits that usually last about 2 hours. Families are paid for participation. We design our studies to be fun and engaging for children, and we find that almost all children can easily complete our studies.
When can we schedule an appointment?
At your convenience! Just call (860) 486-0195.
Will the things we do and say be confidential?
Yes. After your visit, your child's name is replaced with a number.
Who makes sure these studies are ethical?
Each study is reviewed by the UConn Institutional Review Board (IRB), which consists of a group of people who review research studies at least yearly to make sure they are safe for participants. If you have any questions about this process, you can contact the IRB at (860)486-8802.
I have another child – can I bring that one along?
Absolutely! Another trained experimenter will gladly look after them during your visit. Depending on their ages, they may all be invited to participate.
Sounds great – how do I sign up?
If you and your child(ren) would like to take part, please call us at (860) 486-0195, or send an email: dcnuconn@gmail.com. Requesting further information does not commit you to participating.
We thank you for your interest!
Here's the form to send us your information:
Possible Research Participant